› Community life

39 associations in the town ... for a poulation of 1,750. There's no doubt that community life is alive and well in Port-Bail. With a total of 150 associations across the entire Côte des Isles area for the 16 local communities, this is certainly confirmation of that! We who live on this west side of the Cotentin peninsula don't get bored easily.
We have chosen to present not only Port-Bail's associations, but those close by as well.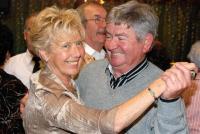 Whether you practice sailing or sand yachting in Port-Bail or sea rowing in Carteret, tarot in Port-Bail or bridge in Barneville, senior leisure activities in Port-Bail, dance lunches in St Lô d'Ourville, tennis in Port-Bail or golf in St Jean de la Rivière, learn English in Port-Bail or speak Norman in St Georges de la Rivière, you are sure to find the right atmosphere and the future friends you are looking for in just a few minutes.
We have chosen to divide them up into 14 categories, but watch out as some associations crop up in several sections.
Some of them have a website or have chosen to describe their activity - click on "Find out more" - they will be delighted to meet you and share your passion with you.
New associations
Creation of tennis section in the USP (Local Sports Association)

To sign up, download and fill in the registration form: sign up!
To book a tennis court: click here!
Creation of an amateur sailor support association
The creation of this association was announced in the official journal in June 2009 and goes by the name of "Portbail Mutual Nautical Support".
This association was born out of the good will of Portbail's regular amateur sailors and its purpose is to improve sea safety in the most effective way possible.
The basic concept is very simple. During the last few months, this group of friends - the association's founder members and regular users of this wonderful adventure playground that mother nature has blessed us with, have been called out to rescue many occasional (or even regular) sailors who have been getting themselves into difficulties out at sea, and nearly all of these incidents were due to not taking the most elementary of safety measures that sailing requires.