› Tourist information
Association de loi 1901 (Voluntary association) - President: Daniel Leblond
60 years ago, Port-Bail inaugurated its 2-star Tourist Information Office.

Still very involved in community life, it is open all year round and is run by president Daniel Leblond, treasurer Colette Esposito, many volunteers and two employees: Frédérique and Charlotte, and a seasonal worker: Carole. Many interns also form part of the team throughout the year. They are all on hand to give visitors as well as locals the warmest welcome possible.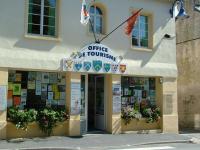 The Tourist Information Office is paid for by the town, the Community of Local Villages of Côte des Isles, members who are renters (68 in 2008), professionals (40 in 2008) and benefactors (60 in 2008), as well as through merchandise sales.
MISSIONS
The Tourist Information Office has three important roles: welcome, information and promotion of the area. It is open all year round from Tuesday to Saturday and every day in season. Enquiries can be made by email, telephone, post or by dropping in. In 2008, the Office dealt with 14,000 equiries of all kinds. It informs and promotes the local area through its website, exhibitions, and various publications including the tourist guide.
The Tourist Information Office can also help with accommodation: seasonal rentals, bed & breakfasts, hotels, campsites, group accommodation.
It also sells tickets for the Channel Islands, the Cité de la Mer aquarium, the Tourist Train and other events.
Dear partners, traders and associations - send us your information to make yourself heard. Whether you are private individual or a professional, come and support the Tourist Information Office by getting involved in the area's tourism activities and become a member!
EVENTS IN 2009
Throughout the year, the Tourist Information Office organises a whole host of events: guided visits, book fair, gastro-walks, mountain biking, heritage days, jumble sale, exhibitions, conferences, new year celebrations and mardi gras. New for 2009: Canoeing outing on Saturday 27th June, 1st comic festival on the final weekend in August!
Contact details
Office de Tourisme
26 rue Philippe Lebel
F-50580 Port-Bail
Tel: 02 33 04 03 07
Fax: +33 (0)2 33 04 94 66
Opening times
September to June:
Tuesday to Friday: 10am-12:30pm and 2-5pm or 6pm
Saturdays: 10am-12:30pm and 2-5pm
Closed Sundays and Mondays
July and August:
Monday to Saturday: 9am-1pm and 2-7pm
Sundays: 10am-12:30pm
Getting to Port-Bail
By car
By train
Book your ticket at: http://www.voyages-sncf.com

Paris (St Lazare station) - Cherbourg - Nearest station: Valognes


By taxi

Taxis de Port-Bail: + 33 (0)2 33 93 01 01

By coach

MANEO: Carentan/Port-Bail or Valognes/Port-Bail lines
Contact:
www.mobi50.com
, 0800 15 050 (Calls from France only)