› Welcome to Port-Bail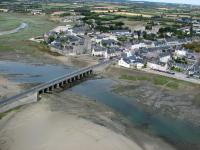 Located on the Cotentin peninsula, on the Côte des Isles coast, Port-Bail is a small community of 1,750 inhabitants. It looks out towards the Channel Islands and will give you a warm welcome at any time of the year in an area steeped in history, heritage and natural beauty.
Port-Bail, as with other communities along the coast, encloses a haven which, at the mercy of the tides, has been invaded by the sea. This landscape, which is always evolving, never ceases to surprise and is wonderful to explore.
Map Port-Bail

Download map of Port-Bail :
Here is the map of Port-Bail :